The partnership among Novo Nordisk Team and GSG continues. The American Professional team, the first team in the world with all diabetic cyclists, will also wear GSG for the next two years. Therefore, a collaboration that has linked the two important cycling players since last 4 years will continue in the next two years 2022-23, GSG, therefore, will accompany Novo Nordisk company for the 100 years of its foundation in 2023, after the anniversary of the discovery of insulin. , celebrated this year.
The Professional team will increase its roster from year to year, reaching 20-22 riders. The main goal for next two years is to have a qualified participation in world-class competitions, in particular in the classic and semi-classic races of the North, and to make some important stages-tours, such as those that anticipate the Grand Tours.
Three Italian athletes will wear blue-gold jerseys next year: the neo-pro Filippo Ridolfi has also been added to the reconfirmed Andrea Peron and Umberto Poli.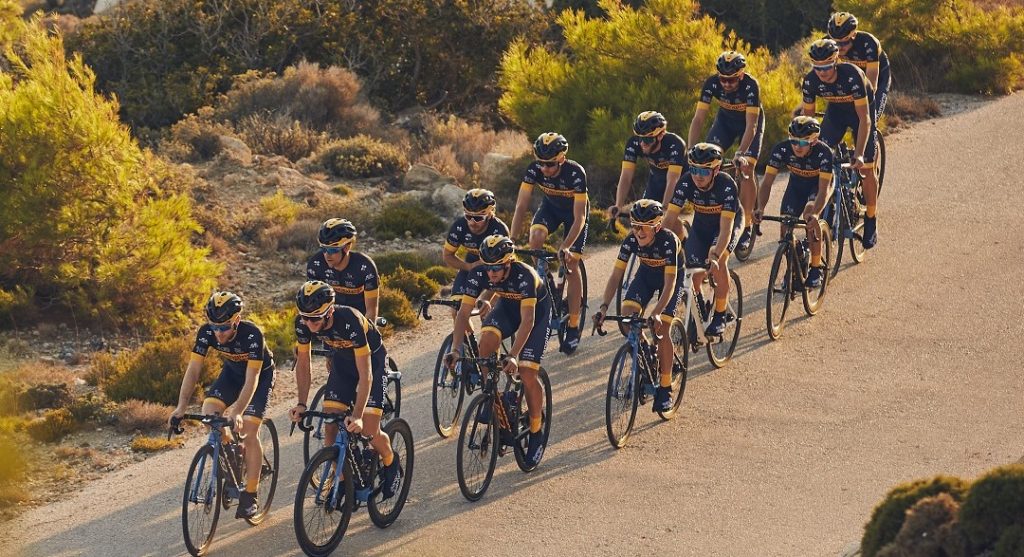 "We are very happy and proud to continue our great working relationship with GSG," said TNN General Manager Vassili Davidenko. "It is extremely important to us to have a technical partner of the caliber of GSG who is able to work with our athletes in a dynamic way year on year and meet our needs for the highest quality cycling clothing throughout the changing seasons of the professional cycling calendar."
"In the world of mass production that we live, it's something special to be able to race and train in kit that's handmade in Italy. That still means something, and it doesn't only apply to the manufacturing process, but also how we work together as people and we are very
much looking forward to the future and all the success that holds." 
Padova native Andrea Peron is just one of the Team Novo Nordisk riders that works close ly with GSG throughout the season and the experienced sprinter knows how important it is for a cyclists clothing to be of the highest quality and adaptability.
"To be able to race in kit that's made so close to home is great and gives me a buzz every time I zip my jersey up," said Peron. "We've been working with GSG for the past four years and they feel like part of the team now, which is really important when you need to give
feedback from a comfort and technical point of view."
"As professional cyclists we spend hundreds of hours over thousands of kilometers in our cycling kit, so it needs to work and above all it needs to be technically advanced and comfortable, like a second skin. We're lucky that we have that with GSG."
A successful working relationship is based not only on respect, but also the understanding that to be mutually beneficial the collaboration is best served by open, free flowing communication and an understanding of each other's core values."
"We are happy and proud to be able to support Team Novo Nordisk for the next two seasons," said GSG Marketing Manager Alessandro Costa. "This is a partnership with the American team that has provided great results in terms of visibility to GSG and one where
a strong relationship has developed that has brought attention to our #challengeyourlimits brand value to the highest levels of world cycling."
"We believe that the best is yet to come. The development pipeline within the team is identifying and developing the next generation of elite athletes with diabetes. An area that we place great importance in and a philosophy that is close to our own. The global diabetes community recognises and admires Team Novo Nordisk and though this reach, the world now also knows GSG as a high-quality technical sports apparel producer operating the top-level of competitive cycling. This is a winning partnership that we hope continues to be successful for many years to come."