The new racing season for women's cycling is upon and the teams are already in full swing at the training camps to finalize the preparation and setup of all gears.
Valcar Travel Service Team is also ready for the new season which will see it at the start of all women's World Tour races and will do so with a new kit that refers to his traditional outfit but with some ideas for novelty.
The 2022 uniform, in fact, maintains the traditional Valcar colors, that is navy blue and fuchsia, but introduces a fresh diagonal nuance that will be well noticed in the peloton and is ready to debut in Spain at the Vuelta CV Féminas on February 6. The shirt is already available for pre-order on the online site at the page Team Replica.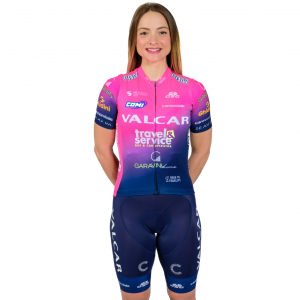 A lot of new entries in the team roster: Olivia Baril,  Karolina Kumięga and Anastasia Carbonari, Carlotta Cipressi and Emma Redaelli from Italy. They will help Alice Maria Arzuffi, Chiara Consonni, Eleonora Gasparrini, Silvia Persico, Federica Piergiovanni, Elena Pirrone, Ilaria Sanguineti, Lizzie Stannard and Margaux Vigié.